Susan Lenart | Sacred Objects: Totems and Talismans | Monday, September 11, 2023 through Friday, September 15, 2023 (five days) | 9:00 am until 4:00 pm daily
$1,395.00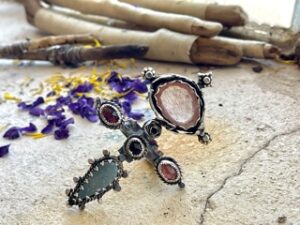 This body of work, built of uncommon sacred objects + symbolic shapes, explore Totems, Talismans + colors of bright+ vivid, light and dark and are inspired by my travels though the dusty Sahara Desert of Morocco + vibrant streets of Mexico, building on the themes of expansiveness + protection.
In this 5-day hands on workshop, learn + explore new  ideas and solutions for building jewelry from my most current body of work.
I'll teach you my unique techniques for bezel setting, connections and cold + hot joins to create your personal sacred jewelry while capturing mindful objects, vibrant gems, and unique stones.
You will explore and learn how to build small hollow forms that I use as prayer boxes to carry as talismans.
Learn my techniques for expanded granulation, cold join hinges, and unique bezel setting ideas.
Experiment with positive and negative space to make a piece visually  more powerful.
Learn techniques for balance and assembly into jewelry totems.
Your finished work will be a body of personal work meant for ceremonial.
---
How fun it would be if we could all stay at the same hotel throughout our retreat!
We've checked around the neighborhood, and rooms at Embassy Suites by Hilton – Phoenix Tempe are clean, affordable and the hotel offers great amenities.
Are you a Hilton Honors member? Book your room directly through their website for the best rates.
Are you a Southwest Airlines Rapid Rewards member? You can book your room here and receive special rates and mileage points.
The rooms will be very affordable and can sleep up to four guests at no extra charge. A hearty breakfast and Happy Hour are included in the room rate.
The sooner you book your stay, the better your rate! Do it today!
If you'd like to share with another Vivi Magoo student, let us know, and we can help find the perfect roommate for you!
---
Only 1 left in stock
Description
Instructor: Susan Lenart
Class: Sacred Objects: Totems and Talismans
Date of Class: September 11, 2023 – September 15, 2023
Time: 9:00 am until 4:00 pm daily
Level: Advanced Beginner – students should have experience with creating and soldering*** (see note below)
Class Fee: $1395
Kit Fee: $TBD
*Kit fee may vary a bit due to fluctuating prices of precious metals.
Kit includes the following
all metals – wire and sheet – copper, jeweler's bronze, sterling
basic bezel wire
easy, medium and hard wire solder
Students will be provided the following in class
soldering stations – torches, fuel, solder, flux, platforms, quench bowls, towels, splitters, hoses and torch tips
table protection
pickle
patina – LOS
Baking Soda for neutralizer
Dawn, paper towels, dishpans for water
Flex shafts
rolling mill
Student Supply List
Jewelers saw and blades (#2/0-4/0)
wax for saw blades
Files – any variety
sandpaper – a variety of grits
Pliers-flat nose, chain nose, round nose, half-round/flat forming pliers
Rawhide mallet
Chasing hammer
flush cutters
small ballpeen hammer
Small jars/plastic bags for scraps
Tweezers
Sharpies and pencils
Note Pad
Optional Supply List
extra metal
Extra wire
extra bezel wire
work light
Safety glasses/Magnifiers/Optivisor
---
Additional Class Comments
***If you are interested in joining this retreat but aren't sure your soldering skills are up to snuff, Susan offers a free soldering video that will walk you through the steps and give you a chance to practice before attending class.
<click here> to be directed to the free soldering lesson
---
Instructor Website: susanlenart.com
Lookbook: Sacred Objects – Totems + Talismans